What you need to know about college refunds from last semester.
Can you get your room and board expenses back? What about tuition? Student fees? Unused scholarships? Money is a major part of college. Where it's coming from and where it's going can be stressful in the best of times. Now, in the age of COVID-19, where your money is going, what it's doing there, and how to get it back is a little more complicated but still important.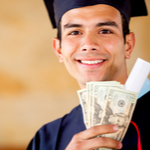 Endowments. The first thing to understand is your school can't spend any endowment fund money on whatever the school wants. Some endowments are investments made on the school's behalf, like stocks that the school earns dividends from and gains income if and when they sell them. Other endowments are earmarked for a specific purpose. So an endowment marked for the biology department has to be spent in that department.
So even if your school has a large endowment fund, the money in that fund is either tied up in investments, which have taken a hit lately, or it is already devoted to a specific purpose. Using those funds for a different purpose isn't impossible, but it takes answers from a lot of different people. Something that is harder to arrange right now.
Tuition. It may seem simple: you paid for an experience and did not get what you paid for, so you should be able to get a refund, right? It's not that simple. When schools went online, it was the logical move for education continuity. But students hadn't paid for online classes. Typically, online classes are slightly cheaper. However, a lot of schools had to scramble to put together viable online classes. Also, class sizes stayed the same. Online classes usually save money by opening to large numbers of students and automating some of the testing process.
If schools continue to only offer online classes, there may be an overall reduction of tuition, but that would raise other issues. If a school plans to continue offering on-campus classes, they need to maintain their buildings and grounds. This costs money. Money that wouldn't be there if tuition costs were reimbursed or lowered. Simply put, getting tuition money back is probably not going to happen.
Room and board. Again, this may seem straightforward at first: you paid to live and eat at school, but you moved home or off-campus when classes went online. What happens to the money you already paid to live and eat? From one school to another, that question is going to have a different answer. Many schools are operated on razor-thin margins. The money they take in is already spent before your check even clears.
The good news is, if you are going to get money back for this past semester, this is where it's going to come from. Just don't expect a full refund. If you do get a refund for room and board, it will be prorated. That means you'll still be charged for the time when campus was open, maybe slightly more, and then receive a refund for the part of the semester when campus was closed.
Other fees. There is often some kind of student fee tacked on to your tuition. This funds everything from student organizations to concerts to labs. On-campus events are canceled, so student organizations and concerts aren't happening. But some of the cost to run those groups and produce the shows has already been spent.
Lab fees are another place you might not see money come back. Even though classes went online, there are still costs relevant to keeping the labs up and running so they will be functional when campus reopens.
Tech fees are another common fee. And another you're likely not getting back. Usually, these fees go directly to covering the cost of Wi-Fi, printers, and other shared communication network costs. Now they are going to establish online learning courses.
What can you do?
Some students have already taken to filing lawsuits against their schools. If you really feel you've been wronged, that is a possible course of action. However, the amount of money you're looking to recover should be considered before contacting a lawyer. It doesn't make a lot of sense to spend more money on lawyers and legal fees than you'd ever recover.
Federal student loan payments are on hold for a few months. As long as you're enrolled for the minimum number of credits a semester, you won't have to start paying anyways.