What to expect. Maybe.
The only constant is change. You've probably heard it when you were younger and shrugged. These last few months, it's become one of the few statements you can rely on. This past spring term has been strange at best and for some a terrible experience. With colleges and universities across the country planning to be open in some way for the fall, what can you expect? And how are they planning to address students who feel they didn't get what they paid for last semester?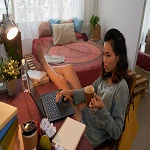 Survival. There are thousands of small, private colleges across the nation. And hundreds may never open again. While your school does still have your tuition money, they aren't getting money from sports, conferences, or research. While you may complain that the cost of tuition and room and board are too high, they aren't enough to keep the lights on. What does this mean for you? Some of you should already know if your school is closing its doors and have been given options.
Less. On both big state university and small private campuses, expect to see cutbacks. To survive, schools will be offering less. Fewer on-campus events is an obvious move, but also expect fewer class offerings, fewer people on campus, and probably fewer in-person classes. If you live on campus, expect fewer people in the dorms. Obviously, no one knows exactly what any school will do yet, but there will likely be a need to reduce the number of people in any given space.
One of the main complaints students had was they were paying for on-campus classes but ended up with online classes. Most likely there will be a hybrid model this fall: some in-class time with online class time. So you'll have a chance to ask questions but also the ability to go through the material at your pace at home.
Living. On-campus living is most likely to be reduced as dorms are pretty tight quarters, and if there were a second wave of Covid-19, it would be a disaster to try and empty the dorms a second time. Some schools have already implemented a quarantine policy for students who go home or travel during the upcoming semesters and they live on campus.
Dorms will most likely be single occupant or not every room will be occupied. Bathrooms/showers may be put on a scheduled basis depending on how much space is available. Lounge areas or rec rooms may be closed.
Sports. As more schools try and get ready for a fall athletics season, they are facing more problems. Players and coaching staff are testing positive for Covid-19. Some schools don't have a plan at all for fall sports to return.
What sports do continue will most likely be televised instead of having tens of thousands of people descend on stadiums across the country. And this is where most schools are going to feel the pinch—the amount of money they make off sports is immense.
In the end. Everything is going to be a little bit different. Change will come on a day-to-day basis. Some states and schools will have more of what was normal, while others will be totally different. The best thing anyone can do is accept the change and move on. You won't be getting the same value for your dollar for a while, but the options are rather limited on what else can be done. You may not be getting "the college experience" you dreamed of, but you're getting a very unique experience. One that will hopefully make you better at adapting to change and working through difficult times. And that is much more important than a frat party.